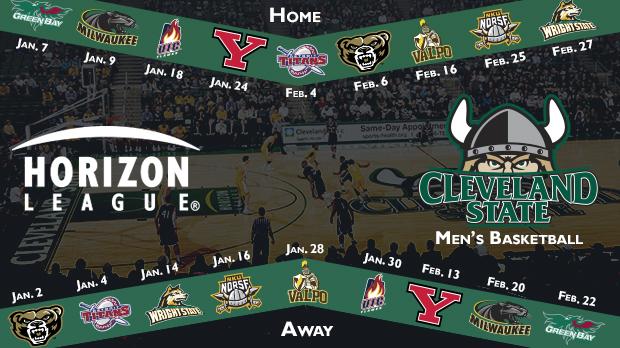 The Horizon League announced its men's basketball conference schedule for the 2015-16 season on Thursday afternoon via Twitter.
Cleveland State will open league play with six of its first 10 league games on the road.
The Vikings open league play at Oakland on Jan. 2, then two days later visit Detroit on Jan. 4.
CSU returns home for two straight. They host Green Bay on Jan. 7 and Milwaukee on Jan. 9 before hitting the road again.
Then CSU visits Wright State on Jan. 14 and two days later they make its first ever trip to Highland Heights, Ky. to face new league member Northern Kentucky.
After two straight home games against UIC (Jan. 18) and Youngstown State (Jan. 18) at the Q, CSU closes out January on the road at defending conference champion Valparaiso (Jan. 28) and UIC (Jan. 30).
The month of February is much kinder to the Vikings who finish the season with five of its final eight games at home - including hosting Valpo (Feb. 16) and Wright State (Feb. 27) at the Q.
The conference tournament will be held March 5-8 at Joe Louis Arena in Detroit.